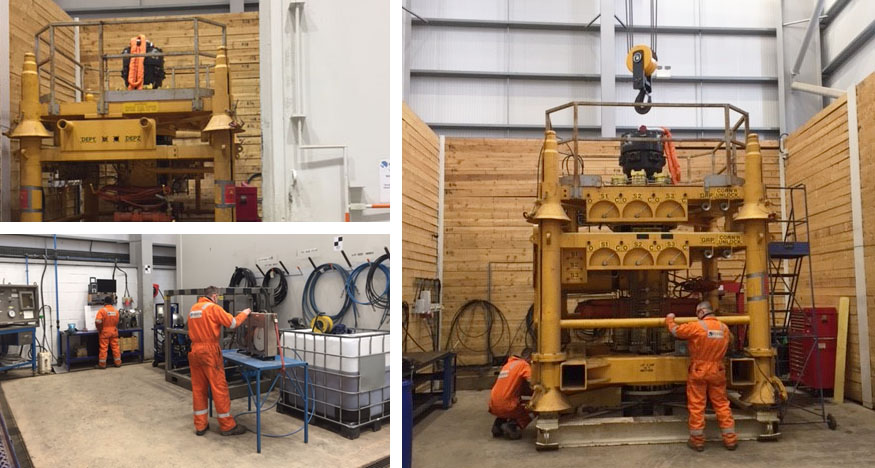 Hydrus has been awarded the maintenance, repair, test and assembly of an EDP Emergency Disconnect Package and LRP Lower Riser Package for a major global oil and gas operator.
The EDP / LRP was delivered to our inspection and test facility in Brechin, Aberdeenshire.
Business Development Director, Graham Shewan commented, … "Whether it's new build or recertification of refurbished equipment, Hydrus Group can offer a full range of engineering and commissioning services designed to ensure the integrity and operational readiness of your oilfield equipment. With purpose built dedicated internal test facilities, Hydrus Group can accommodate assembly acceptance tests right up to full scale system verification tests."
The scope of work included draining the preservation (Erifon) fluids from the bores, full system function test, and the recording of all HYD valve opening - closing times, including integrity test of all populated HYD lines.
A full body test was carried out. Both bores were simultaneously tested to 500psi and 5,000psi - 5/10min.   
Hydrus undertook the full preparation and cleaning of the Test Skid in advance of locating the LRP Lower Riser Package. On completion, third party re-certification was undertaken on all lifting points and slings.
A comprehensive test of the flushing unit was carried out. The unit was filled with customer free issue Brayco SV3 mineral oil. Further scope included setting up and flushing all associated equipment to AS4059 CLASS 6B-F and a sample recorded. All mineral oil Brayco SV3 function test hoses were inspected, prepared, joined and flushed clean with AS4059 CLASS 6B-F.
Managing Director, Martin Anderson commented, … "Our extensive facilities in Brechin are well equipped to handle most oilfield equipment inspection, repair, test and recertification projects. Over the last 15 years, our business has grown from a small manufacturing start-up to a market leading engineering, manufacturing and fabrication company."