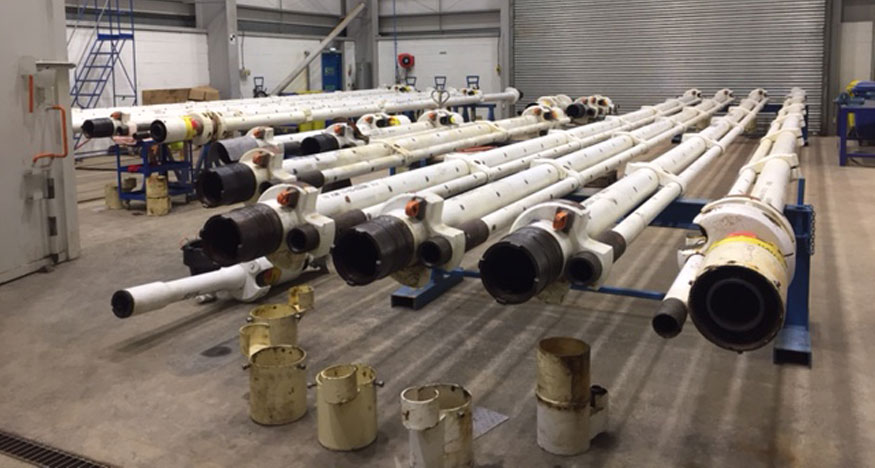 Hydrus have successfully completed the inspection, refurbishment, repair and test of a dual bore production riser for a major oil & gas operator.
The refurbishment project included the full overhaul of the dual bore production riser, (7) x 50ft, (2) x 35ft, (2) x 5ft, (1) x 20ft and (2) x 10ft. Scope of work included the maintenance clean and inspection of the pin-box ends for damage, clean, inspect and lubricate all seals, release - re-torque all riser clamps to 190-200ft-lbs, check, lubricate and grease up all umbilical clamps.
Hydrus load tested the dual bore riser pad-eyes 100% MPI and carried out an inspection and recertification of the handling slings and shackles. Hydrus also checked in accordance to OEM procedures, 100% UT wall thickness.
On completion of the inspection, repair and certification, the dual bore production riser was pressure tested by Hydrus at 500psi - 5000psi for 5 and 15 minutes. The client supplied third party witnessing and full sign-off of the test.
Patch paint stencilling, riser clean, inspection of annulus pins, denso taping of annulus pin ends, maintenance refit of all protectors and shrink wrapping of ends prior to loading into baskets completed the scope of work.
Managing Director, Martin Anderson commented, … "Our extensive facilities are well equipped to handle most oilfield equipment inspection, repair, test and recertification projects. Our purpose built dedicated internal and external test facilities can accommodate assembly acceptance tests right up to full scale system verification tests. Whether its new build or recertification of refurbished equipment, Hydrus can offer a full range of commissioning services designed to ensure the integrity and operational readiness of your system. "